>Next International
Issue 01 - Spring 2009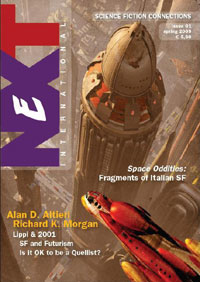 The first international issue of our magazine, edited by Giovanni De Matteo and Salvatore Proietti, is now available. 80 pages of science fiction and visions from the future: short stories, articles, and illustrations. Our special guest is Takeshi Kovacs, whose birth is described by his author Richard K. Morgan.
From the editorial:
"Let us throw a few dreaming jewels in the teeth of all the killers in high places saying their prayers aloud. Let us snatch bodies off the hands of the other whisperers lurking on the threshold of darkness. Let us move beyond the hour of the Dragon, and step onto the stage of the Big Time. No surprise, this side of the veil of Maya is as contradictory as the nature of the Real and of the Reality Studio."
Articles in this issue:
Is It OK to Be a Quellist?, where Giovanni De Matteo analyzes the political aspects of Richard K. Morgan's Kovacs series.
The Origins of Takeshi Kovacs, where Richard K. Morgan deals with the human genesis of his post-human antihero.
2001 – Forty Years Since, where Giuseppe Lippi tells us about Kubrick's masterpiece, in the anniversary of its release.
A New Paradigm for Cosmology, by Anisotropie, leading readers through an interesting trip on the edge of scientific speculation.
The Web in the Time of the Interstellar Frontera, by Giovanni De Matteo, about the coming possible evolutions of the Net making our environments more and more interactive, outer space included.
Tomorrow's Cities – Boxes, an alluring journey hosted by Francesca Dattilo through cities already forerunning our future: Berlin, Tokyo, Shenzhen.
Science Fiction and Futurism, where Riccardo Valla deals with the SF intuitions in the works by Filippo Tommaso Marinetti.
Space Oddities: Holograms of a Fragmented SF, a detailed portrait of Italian science fiction through the protagonists of its history, written by Salvatore Proietti with contributions by Andrea "Jarok" Vaccaro, Lukha Kremo Baroncinij and others.
In the fiction department:
Contact with the Enemy, by Alan D. Altieri
The Mechatronics, by Marco Milani (trans. Giovanni Agnoloni)
Florian in the Short Circuit, by Sandro Battisti (trans. Cinzia Sgambaro)

The Dolly Affair, by Lukha Kremo Baroncinij (trans. Simona Mancino)
Orphans of the Connection, by Giovanni De Matteo
One Hundred Bytes of Solitude, by Fernando Fazzari
English translations supervised by Salvatore Proietti.
Illustrations by Daniele Cascone, Christopher Chan, Luca Crema, Lucas Janin, Leisol, Marco Moschini, Giorgio Raffaelli, Matteo Ventura and others. Art Directors: Annalisa Antonini & Giorgio Raffaelli. Cover by Franco Brambilla.
You can buy Next International # 01 for € 7,00 (in Italy), for € 8,00 (if you are in Europe) or € 10,00 (if you are anywhere else), delivery included, by writing to the e-mail address info [AT] next-station [DOT] org (remember to replace the [AT] and [DOT] sections with the appropriate characters, and remove the superfluous spaces).
Next International, 80 pages of future and science fiction. € 5,90.